Our team of diagnostic specialists and professional heavy equipment mechanics are dedicated to providing state of the art quality workmanship and close customer relationships which set us apart from the competition industry wide.
Please review our services below and
contact us
if you have any questions!
Click on the service type headings below to view more information about each.
B&B offers over 30 years experience in developing our rebuilt transmissions and torque converters. With our dyno test stands we can ensure that each unit will perform beyond our standard warranty. We also have over 50 acres of rough terrain property we can fully test machines after component rebuild. We specialize in CAT 943, 953, 963 & 973

Hydrostatic Transmissions!

B&B has devoted many years in developing its piston pump & motor rebuild program. Also, our capabilities in re-machining new parts, pumps or motors are above and beyond most OEM components! With our experience and warranty program our rebuilt units are the best in the industry.

C

lick here to view Transmissions & Torques in our inventory.
Our highly accurate machined hydraulic

pumps offer lower priced alternatives to new OEM pumps. Even though the cost is lower it doesn't mean expectations should be - our remanufactured pumps are superior in performance to life-cycle to a new model. If it is a small tractor pump or a large 300gpm industrial pump, we can find the parts and re-machine your old pump to better than

B&B offers full testing for transmissions, piston pumps and motors, steering and brake components on our 3 dynamometer or "dyno" test stands. Our pricing for testing is the best in the industry and we will stand by that. If you have components and need them tested, give us a call or email and we will give you a free quote on our services.

Click here to view Hydraulic Pumps in our inventory.
| | | |
| --- | --- | --- |
| | | Diagnostics & Repair for Computer Controlled Machinery |
| | | |
| In our surface lapping department we can finish machine components to 11.6 millionths of an inch flatness. B&B developed a proprietary concave-convex lapping system to accurately match component surfaces to achieve a true hydraulic float. | | When it comes to electrical components most companies will just use the elimination process which will usually cost you thousands in un-needed components and expenses. B&B offers extensive diagnostic knowledge from fuses to computer driven machinery. We can keep your machines operating at the lowest cost! |
Custom Flame Spray Welding

Speciality Machining & Custom Fabrication of Attachments

We provide expert custom flame spray

welding services appropriate for any

number of industrial and commercial

applications. Flame spray is a

process

where a

hard protective coating is

applied

to the prepared surface to provide protection from wear and erosion, restoration of warn parts

and corrosion protection.

To complement our rebuild program we also have a full service machine shop for all other heavy equipment repair. With our large CNC Machinery we can rebuild or fabricate special housing & components to fit any application.
Hydraulic Valve & Cylinder

Re-Chroming

Using Evapo-Rust® makes any rust removal damage free and easy. Evapo-Rust® is a completely bio-degradable mixture that removes rust without removing any excess metal. We also offer Evapo-Rust® to our customers in any size from quarts to bulk gallons.

With our capabilities to repair expensive valve blocks, valve spools and cylindrical rods, we can save you thousands of dollars. Valve wear is one of the leading causes for poor machinery performance. Re-chroming will protect your parts against corrosion and wear in tough environments. Hard Chrome is porous, and therefore has excellent lubricating value, making it perfect for hydraulic applications.
| | | |
| --- | --- | --- |
| Whole Machine Repair | | |
| | | |
| Our 30-Ton crane facility offers ample room to remove final drive assemblies, track segments, cabs, booms and attachments. We also offer in house line boring services. | | Our extensive component line offers a large range of fully rebuilt or running takeout components ready to ship. We also have an extensive line of ready to build cores depending on your requirements. |
| | | |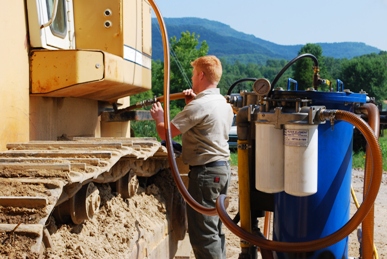 Allow B&B to help you avoid premature equipment downtime & failure with our oil sample analysis kits & oil filtration systems. We also offer regular inspections provided by our expert service technicians.
Do you have a technical or maintenance question you would like to ask our expert technicians? If so, please contact us today! We also have a section on our website where we list questions and answers that we have been asked before. Please visit our Technical Tips for more information.
OUR PRODUCTS
To complement our Services we also offer a few Products that we recommend to our customers to use. Please see the links below for more information.